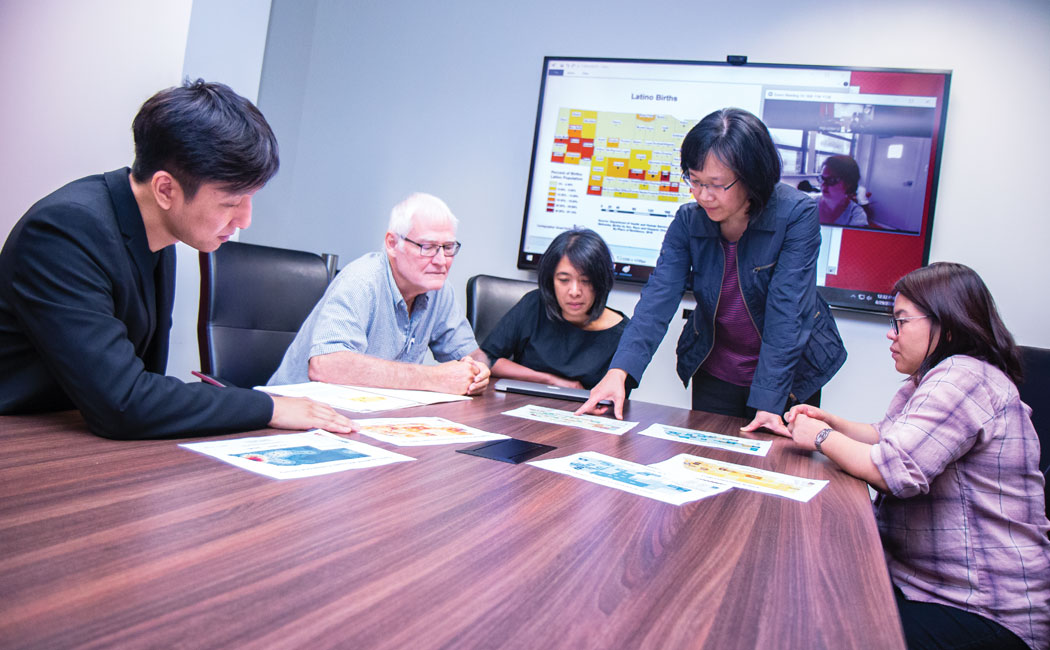 As populations in many rural Nebraska counties decline, those that are stable or growing share a common element: ethnic diversity.
A University of Nebraska–Lincoln study recently explored how cultural and economic resources generated by diverse populations can help smaller communities not only survive, but thrive.
Investigators identified which factors are most relevant to rural ethnic minorities in determining the quality of life — generally, perceptions of and satisfaction with life, and the degree to which people believe their goals and standards are being met. Through focus groups, interviews and surveys, researchers collected data from ethnic minorities in Madison, Platte and Scotts Bluff counties in Nebraska.
"There has been little information about which factors non-majority groups consider important," said Maria de Guzman, associate professor and extension specialist in the Department of Child, Youth and Family Studies, and the project's principal investigator. "For example, good jobs and education are important to everyone, regardless of ethnicity. But we want to identify additional, specific factors important to people in these ethnic groups in smaller communities."
Census statistics show populations in two-thirds of Nebraska counties are declining, de Guzman said. Of the rural communities that were stable or thriving, she said, many had a high number of ethnic minorities.
"Many rural communities are declining, so you want minorities to be contributing members of the community, and feel happy and secure enough to remain in those communities," said de Guzman, a CYFS faculty affiliate.
Data collection began with learning perspectives of key informants, including school administrators, diversity coordinators from businesses, librarians and other individuals identified as knowledgeable about the counties' ethnic minorities. Based on these data, a survey was developed to examine which factors — such as community resources, economic opportunities and social connections — have the greatest impact on residents' well-being.
After initial data analysis was completed, researchers created fact sheets and geographic information system (GIS) maps of Nebraska to help visually illustrate the geography of poverty, migration and other factors.
Many rural communities are declining, so you want minorities to be contributing members of the community, and feel happy and secure enough to remain in those communities."

Maria de Guzman, CYAF associate professor and extension specialist
De Guzman said pinpointing which culture-specific factors rural minorities deem essential to quality of life will help develop educational tools for community responders serving those groups.
"Ethnic minority studies are done mostly on the East and West Coasts, but there is very little research done in the Midwest, especially in rural communities," de Guzman said. "Even for Omaha and Lincoln, ethnic minorities have different experiences than those who live elsewhere, such as California."
Researchers also believe addressing such needs may increase the likelihood of those citizens remaining in their communities and contributing to their towns' economic and social success, and overall vitality.
"The graying of America is also occurring in Nebraska, so ensuring people stay here brings the resource of young people to the labor force," said Rodrigo Cantarero, associate professor of community and regional planning and co-PI. "It's like giving a shot to the state's economy."
The project was funded by the University of Nebraska's Rural Futures Institute Research and Engagement Grant and housed at CYFS. The project's key investigators, along with De Guzman and Cantarero, include Evan Choi, associate professor of children, youth and family studies; Soo-Young Hong, associate professor of child, youth and family studies; Yan Ruth Xia, professor of child, youth and family studies; and Nebraska Extension educators Jill Goedeken, Jackie Guzman and Lee Sherry.