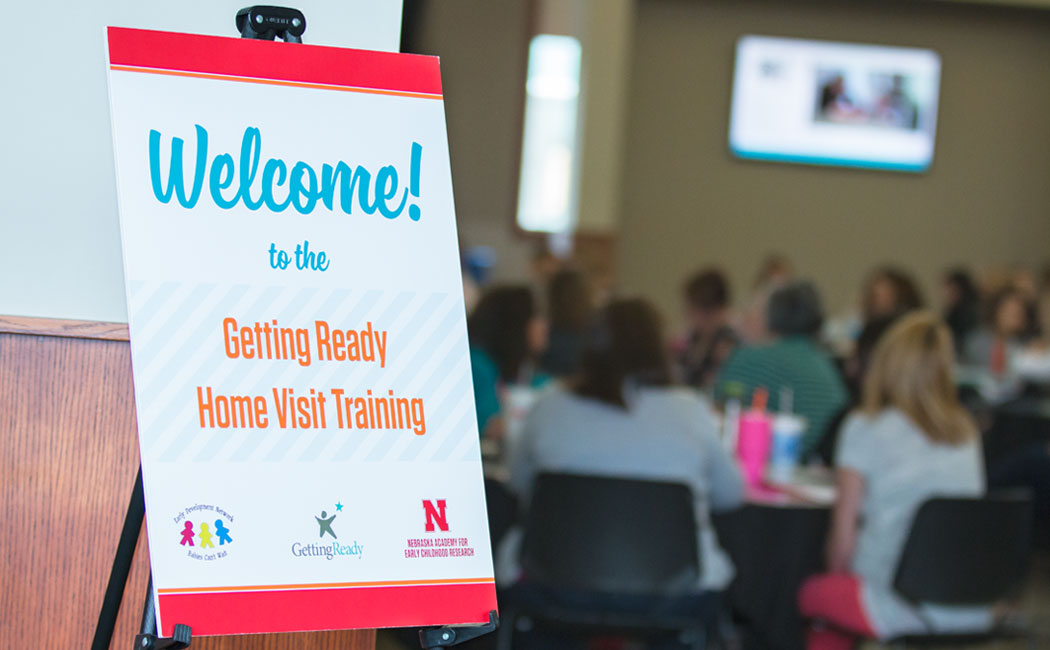 Early childhood special education providers, services coordinators and supervisors from across the state gathered at Nebraska Innovation Campus June 5-8 for Getting Ready training sessions.
Hosted by CYFS faculty and staff, a pair of two-day training sessions focused on translating evidence-based research practices into real-world settings to positively impact children and their families. Part C state trainers delivered the training material after having received one year of training and support in Getting Ready from CYFS faculty and staff.
Developed by CYFS faculty and affiliates, Getting Ready is a research-based approach that enhances school readiness for children age 5 and younger. It focuses on parental engagement and parent-professional partnerships to strengthen relationships between parents and their children, as well as parents and early childhood professionals.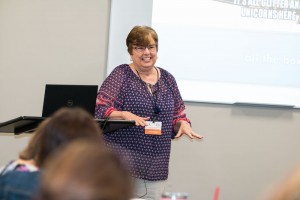 Getting Ready will serve as a model of quality home visitation for the Nebraska Early Development Network, which provides early intervention services for families with children birth to age 3 with developmental delays and/or health care needs.
More than 100 early childhood professionals attended the sessions, which included two days of services coordinator and early childhood special education provider training, and two days of coach training. Attendees learned how to collaborate with families and blend developmental objectives with effective parent-child interactions. Breakout sessions featured video clips and opportunities for discussion, and there was a segment for district coaches on how to support staff using Getting Ready.
School districts represented at the event included Boys Town National Research Hospital, Lincoln Public Schools, Millard Public Schools, Omaha Public Schools and Educational Service Unit 4, serving Auburn, Falls City, Humboldt and Johnson Public Schools.
Attendees viewed videos to see what Getting Ready looks like in practice. One video featured a provider with a family using the Getting Ready approach, while another video highlighted early childhood professionals sharing their experiences with Getting Ready during the past year.
It is exciting to bring the approach to scale and enhance services for families across the state."

Lisa Knoche, director of CYFS' Nebraska Academy for Early Childhood Research
Christina Brenneman, early childhood special education trainer with the Papillion-La Vista School District, completed her training last year. She told attendees that Getting Ready has become an integral part of her work.
"For me, the buy-in was having the opportunity to coach someone through this process," Brenneman said. "The Getting Ready approach helps me know that when I exit, the parents are still driving the process. It's rewarding and encouraging that we are using the skills we already have to make real, lasting differences."
Early childhood professionals also will receive ongoing coaching as they continue to implement Getting Ready over the next year. After initial training by CYFS faculty and staff, coaching will transition to site-based coaches within Nebraska educational service units and school districts.
Training is funded by the Nebraska Department of Education. The Nebraska Department of Health and Human Services also collaborates on the project with CYFS.
"We are privileged to partner with the Part C co-leads — NDE and DHHS — on this opportunity to enhance home visitation services in Nebraska," said Lisa Knoche, director of CYFS' Nebraska Academy for Early Childhood Research. "We have conducted extensive research on Getting Ready and our evidence demonstrates its positive impact on children and families. It is exciting to bring the approach to scale and enhance services for families across the state."
To learn more, visit the Getting Ready website.
Photo gallery: