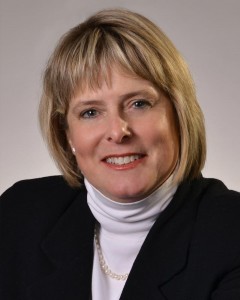 UNL professor Susan Swearer, whose research on bullying has yielded collaborations with the White House and Lady Gaga, has launched a new initiative to support personal, social and cultural acceptance from childhood through adulthood.
Swearer's Empowerment Initiative will facilitate translational research and outreach efforts designed to foster healthy communities, schools and families free from bullying and other negative behaviors.
"In my recent work, I've talked a lot about empowerment – how to empower people to live kinder, braver lives and successfully create opportunities for themselves, their families and their communities," Swearer said. "If we can empower individuals to stand up to the inequities they see and experience, then we can end negative behaviors such as bullying."
Housed within the Nebraska Center for Research on Children, Youth, Families and Schools, the Empowerment Initiative will both encompass and expand on Swearer's previous research, including that conducted through her Target Bullying Research Lab. The initiative consists of Swearer and a cadre of UNL doctoral candidates who are studying various facets of empowerment and bullying, from social anxiety, body image and family dynamics to college hazing, intimate partner violence and bystander behavior.
The initiative has gained early momentum by establishing two outreach partnerships – one with Paul Mitchell Schools, the other with the National Guard – aimed at promoting positive school environments and cultivating student role models across the country.
N-Lightening Curriculum
Swearer's partnership with the nationwide network of more than 100 Paul Mitchell cosmetology schools has spurred the creation of N-Lighten, a self-empowerment and anti-bullying curriculum focused on supporting healthy social and emotional functioning.
The N-Lighten curriculum combines evidence-based approaches derived from Swearer's and others' research with messages taken from "Be Nice (Or Else!)," a book authored by Winn Claybaugh, dean and co-founder of the Paul Mitchell Schools. Swearer recently helped unveil the curriculum by presenting at the Paul Mitchell Schools Summit in Los Angeles, where she met with supporters that included L.A. Lakers legend Magic Johnson and actress Betty White.
"I love the Paul Mitchell School model of philanthropy and giving back to local communities," Swearer said, "and it's exciting to create an empowerment curriculum for their schools and the outreach work in their communities."
As part of the collaboration, Paul Mitchell School owners and instructors will attend N-Lighten training workshops at UNL. These leaders will then disseminate the curriculum to their network of Paul Mitchell Schools, which collectively enrolls more than 16,000 cosmetology students.
The Paul Mitchell network will also distribute the N-Lighten lessons to high schools across the United States, offering service-learning opportunities to potentially hundreds of thousands of high school students. Swearer and fellow UNL researchers will subsequently study the N-Lighten curriculum's impact on students' self-concept, self-esteem and problem behaviors such as bullying, substance abuse and risky behavior.
"Every parent wants the absolute best for his or her children," said Paul Mitchell's Claybaugh. "When prospective students step into a Paul Mitchell School, their parents are entrusting us with the safety and security of their son or daughter. Our partnership with Susan Swearer, who has spent her professional career studying these behaviors, puts the world on notice that Paul Mitchell Schools are committed to not just teaching the skills of cosmetology but also the skills of life, leadership, and happiness."
Guarding Against Bullying
In collaboration with the National Guard, Career Training Concepts and the Harvard Graduate School of Education, the Empowerment Initiative has also guided the development of Helping Everyone Achieve Respect, a new anti-bullying presentation designed for high school students.
Delivered by National Guard personnel, the 50-minute presentation revolves around the Guard's core values of loyalty, duty, respect, selfless service, honor, integrity and personal courage. H.E.A.R. engages students by asking them to consider what they can do not only to minimize bullying but enhance the level of respect shown throughout their schools, Swearer said.
The presentation also features multiple case studies of disrespectful behavior in high school settings, giving students opportunities to identity instances of bullying and the potential consequences for those who perpetrate, suffer from and witness such behaviors.
In addition to advising students on how to react safely and responsibly when encountering bullying behavior, Swearer noted that the presentation offers a list of questions that students can ask to facilitate communication, raise awareness and encourage meaningful action among teachers and school administrators.
"Leaders in any organization set the tone for acceptable behaviors," said Swearer, who noted that H.E.A.R. has received positive feedback from educators and students at 11 schools that have piloted it. "We want to engage youth and adults in dialogue about how to really change the culture so that bullying behaviors no longer exist. The goal is to prevent bullying behaviors before they start."
For more information on the Empowerment Initiative, visit http://empowerment.unl.edu and the accompanying Facebook page. Susan Swearer can be followed on Twitter via @DrSueSwearer.