CYFS operates on the philosophy that progress stems from knowledge – knowledge that originates from the deliberate, rigorous research that has become our hallmark. In this spirit, we have devoted years to acquiring new information, validating existing ideas, and reconsidering long-held beliefs. We have become fluent in the languages of the academe: theories and hypotheses, citations and footnotes, data and statistics. And we have grown the knowledge base by contributing to the academic journals, handbooks and monographs that fill our shelves.

Yet, in doing so, we have not forgotten the purposes underlying this process – the purposes upon which our center was built. To develop and impart practices that help people overcome their most acute challenges. To provide tools that give individuals and communities the opportunities to attain the happiness, success and security they seek. To assemble talented, committed researchers whose visions become pathways to progress.

With an eye toward helping people achieve personal, academic and professional fulfillment, those researchers have dedicated a decade's work to the following thematic areas.
Early Childhood
At birth, a baby's brain contains roughly 100 billion neurons. Connecting these neurons requires positive, stimulating experiences that "wire the brain" for healthy, long-term learning and development.
Studies suggest that if these vital connections are not forged within the first few years of life, they never will be. This single fact illustrates the importance of early childhood research – and the significance of ensuring that children from birth to age 8 receive appropriate emotional support and intellectual opportunities.
Accordingly, we've spent the past decade conducting applied research that addresses every conceivable facet of early childhood, from cognitive and social-emotional development to the instrumental influences of ecological systems and socioeconomic factors.
We've especially worked to improve early childhood education, child care programs and home visitation interventions by supporting the teachers and early childhood staff who lead them. In aiming to position children for success, we've also focused on fostering strong partnerships between families and these early childhood professionals.
---
Our Goals
Create, implement and evaluate programs that foster the developmental capacities that ready children for school and place them on trajectories to succeed academically and socially

Improve and strengthen the homes, preschools, early education programs, peer groups and communities that shape young children's futures on a daily basis

Investigate both typical development and the progression of children who are at risk, have special needs and hail from diverse ethnic, geographic and socioeconomic backgrounds
Our Progress
Significantly improved early language, literacy and other academic skills for children living in poverty – thereby closing achievement gaps between these children and their more advantaged peers

Substantially enhanced children's social-emotional welfare by reducing problem behaviors and parent-child conflict

Helped parents become significantly more sensitive and effective in supporting their young children's learning
---
A Glimpse at Our Impact
The following graph illustrates a demonstrated impact of Getting Ready, a CYFS-developed intervention approach designed to strengthen parent-child interactions and foster family-school partnerships that improve the educational prospects of very young children at risk for developmental delays.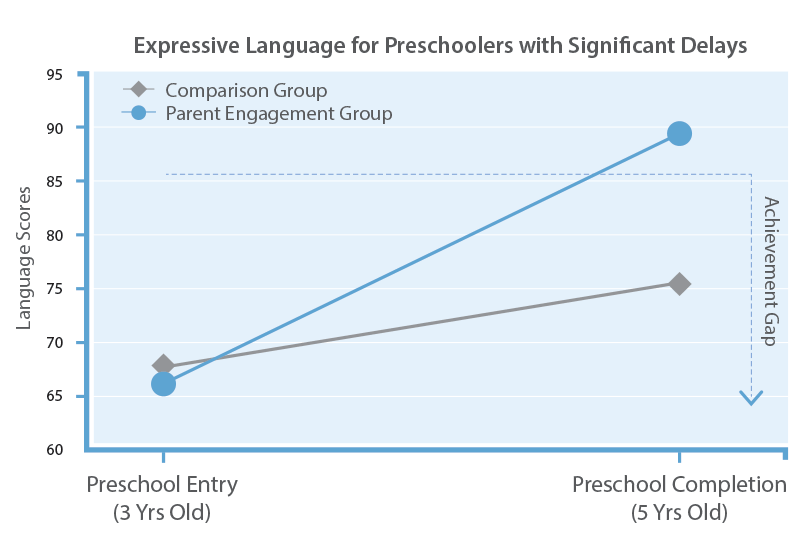 ---
Rural Education
Roughly one-third of U.S. schools reside in rural communities and face the associated realities of geographic isolation, staff turnover and limited access to valuable resources. More than half of Nebraska's schools are located in rural districts and contend with many of these same realities.
As home to the National Center for Research on Rural Education (R2Ed), CYFS has committed to meeting the unique challenges and fulfilling the distinctive needs of teachers, students and parents in rural communities. With the belief that teachers make the largest and most sustainable impact on educational improvements for students, we've sought to identify, develop and validate methods that help teachers deliver research-based instruction in rural classrooms.
We've specifically focused on investigating how professional development opportunities – provided face-to-face or via distance technology – influence teachers' knowledge, perceptions and practices. We've also devoted our efforts to the proliferation of family-school partnerships and intervention programs that improve students' academic performance.
---
Our Goals
Invest heavily in developing and expanding relationships with rural schools, constantly soliciting input that improves our understanding and enhances our ability to assist students

Support personnel in rural schools by giving them access to programs that ensure their students receive high-quality instruction in the fundamental areas of reading and science

Conduct outreach efforts that assist rural education researchers and practitioners throughout the United States
Our Progress
Collaborated with hundreds of teachers in rural communities across multiple states to pinpoint educational practices that improve students' reading and science learning

Facilitated family-school partnerships that are directly benefiting hundreds of kindergarten through third-grade students, their parents and teachers in rural Nebraska and surrounding states

Conducted national research on identifying the unique realities of professional development for teachers in rural, urban and suburban schools
---
A Glimpse at Our Impact
The map below features a sample of Nebraska school sites that have participated in projects coordinated by the CYFS-housed National Center for Research on Rural Education.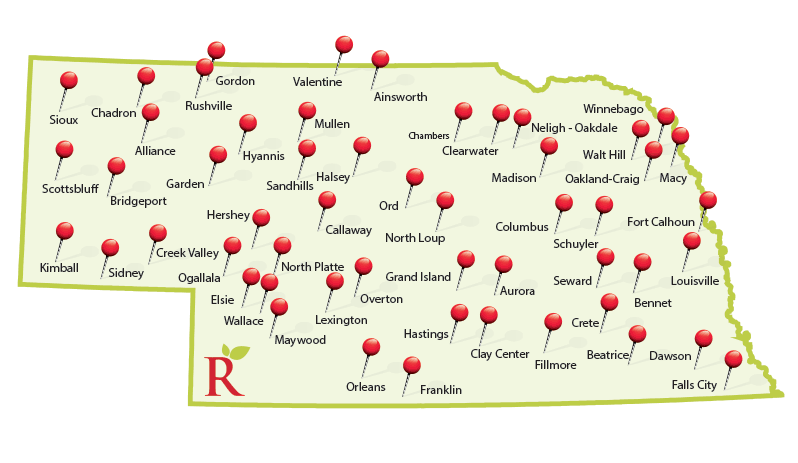 ---
Science, Technology, Engineering & Mathematics (STEM) Education
Both the United States and Nebraska have seen the number of job opportunities in technical fields rise quickly in recent years. This trend indicates that the future prosperity of Nebraska's economy and labor force will significantly depend on educating its students in the areas of science, technology, engineering and mathematics (STEM). However, recent Nebraska Department of Education reports indicate that 30 percent of the state's students are not proficient in science or math.
CYFS seeks to prepare teachers and engage students by providing them with unique STEM opportunities both inside and outside the classroom. We facilitate partnerships among middle school, high school and university faculty that lead to high-quality professional development for teachers and the creation of highly informed, interactive lesson plans.
Meanwhile, our work with community organizations and schools gives students hands-on experience with robotics, race cars and many other possibilities born of scientific and technological know-how.
---
Our Goals:
Emphasize educational strategies that encourage students to ask questions, think critically and learn to apply the scientific process

Demonstrate the many professional applications of STEM principles among students who are beginning to ponder future career options

Focus on underserved and minority populations that have traditionally lagged behind their peers in the areas of science and mathematics
Our Progress:
Improved student learning, awareness, interest and motivation related to science, technology, engineering and math

Bolstered student skills relevant to the workplace, including teamwork and problem-solving capabilities

Helped participating educators gain STEM content knowledge and increased their confidence in teaching STEM subject areas
---
A Glimpse at Our Impact
CYFS research professor Gwen Nugent collaborated on a study that examined the integration of robotics into the 4-H program. The investigation revealed that middle schools students who received hands-on experience with robotics scored higher on tests of STEM acumen than peers who did not.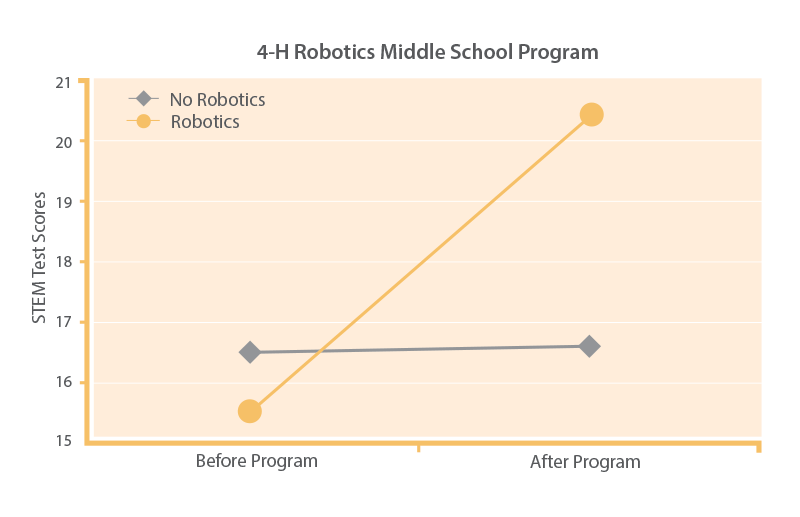 ---
Reading Support
The Nebraska Department of Education recently reported that nearly one-quarter of the state's students do not qualify as proficient readers.
At CYFS, we believe that reading proficiency unlocks many academic, professional and personal doors – and is a key that all Nebraska students should possess.
In this vein, we've striven to ensure that young readers receive the early reading support they need to keep pace with their peers. For those who fall behind and need assistance to catch up, we work closely with schools and families to develop and establish intervention programs tailored to the strengths and needs of individual children. To do so, we focus on helping educators and parents collect and apply data that originates from careful assessment, observation and reporting across the classroom and home.
---
Our Goals:
Focus on identifying the fundamental building blocks of literacy and strategies for instilling these skills in young children

Collaborate with schools to apply and evaluate approaches that encourage high expectations and promote reading achievement among all students, including English language learners

Implement and assess professional development programs that help teachers identify students' reading needs and provide research-based instruction
Our Progress:
Significant gains in early literacy skills that relate to later reading success for young children, including English language learners

Substantial increases in the number and proportion of students reaching national reading benchmarks – including students in persistently low-performing schools

Improvements in teachers' use of data to guide their instruction, leading to notable gains in student reading performance
---
A Glimpse at Our Impact
After participating in the CYFS-led Response-to-Intervention Consortium, Nebraska elementary schools reported significant gains in the number of students meeting the state's reading standards.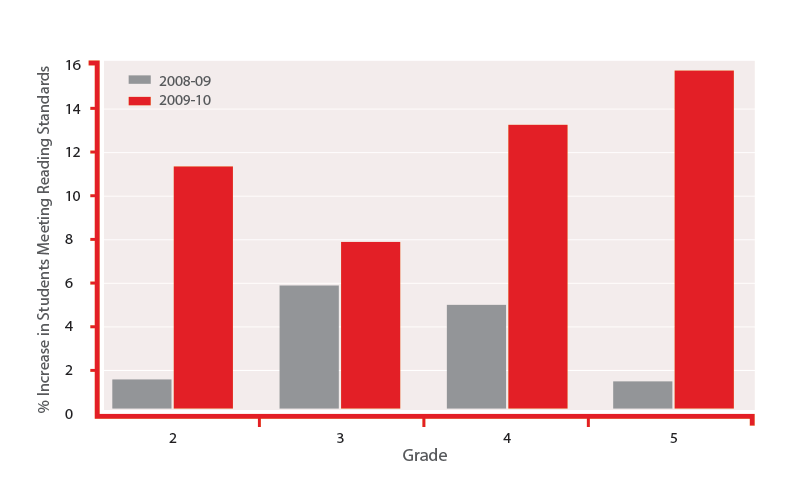 ---
Family-School Partnerships
Of all the practices shown to influence children's learning and development, perhaps none has received more consistent support than the forging of partnerships between the families and schools that serve as the bedrock of children's formative years.
It is unequivocal: Families play an essential, irreplaceable role in influencing their children's intellectual, social-emotional and behavioral trajectories. Indeed, the synergy that results from families collaborating directly with schools can help children maximize their potential both inside and outside the classroom.
For a decade, we've made concerted efforts to foster continuity across multiple contexts – from the living room to the classroom – and ensure that children receive consistent support from every caregiver and educator responsible for their development and learning. We've especially explored the capacity of family-school partnerships to enhance the long-term prospects of underserved children living in impoverished and rural settings.
---
Our Goals:
Determine the best approaches for encouraging two-way communication, mutual appreciation and joint decision-making between caregivers and teachers

Develop frameworks that help teachers and caregivers collaboratively identify children's strengths and needs, develop effectual plans, and implement evidence-based strategies that address those needs

Examine how the development and outcomes of family-school partnerships are shaped by demographic, socioeconomic and geographic factors
Our Progress:
Improved children's social and adaptive skills while reducing the level of disruptive behavior they display at home and school

Significantly bolstered parental competence and engagement in children's learning

Enhanced relationships between parents and teachers, leading to pronounced benefits for disadvantaged families


---
A Glimpse at Our Impact
As illustrated by the graph below, the Conjoint Behavioral Consultation approach developed by CYFS director Susan Sheridan has demonstrated the capacity to limit behavioral issues commonly exhibited by children living in disadvantaged conditions.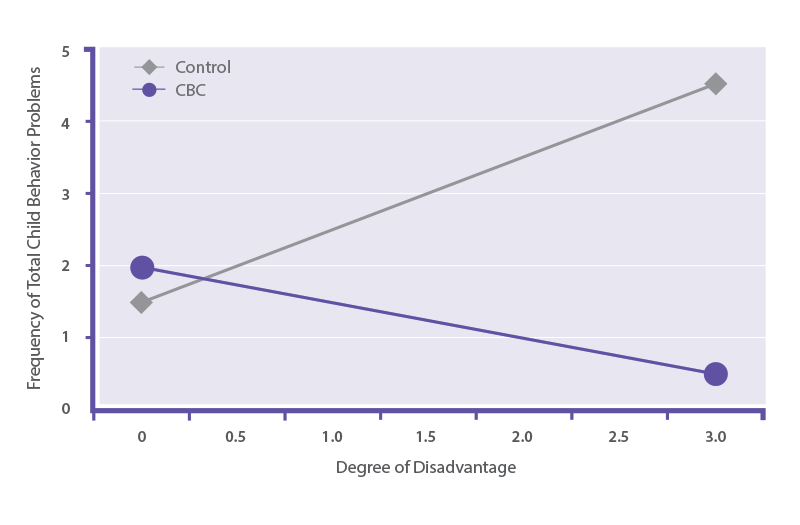 ---