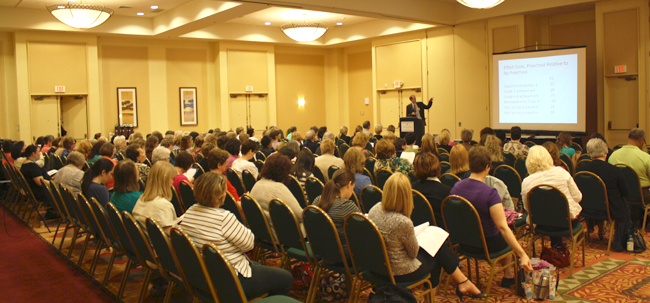 The Nebraska Center for Research on Children, Youth, Families and Schools surveyed the landscape and mapped the future of early childhood research, practice and policy when it assembled the state's top minds for an April 25 summit in Lincoln, Neb.
Co-sponsored by the Buffett Early Childhood Institute, the second biennial CYFS Summit on Research in Early Childhood featured 16 presentations on early learning and development, family engagement, professional development, and the economic impacts of early intervention. Subsequent discussions about translating this research into practice and policy took place among the approximately 150 scholars, educators, interventionists and administrators in attendance.
CYFS Director Susan Sheridan and University of Nebraska President J.B. Milliken provided the summit's opening remarks. Arthur Reynolds, professor at the University of Minnesota's Institute of Child Development, followed with a keynote address on the history of early childhood development programs implemented from birth to age 10.
Numerous CYFS faculty and affiliates also addressed studies devoted to early learning and development. Their presentations covered topics ranging from the effectiveness of early childhood reading and math initiatives to the impacts of temperament, natural environments and sleep habits on children's cognitive, academic and social functioning.
Presentations related to family engagement focused on parental involvement in several early language and literacy programs, specifically those tailored to children living in poverty and rural communities. They also summarized a family-school partnership approach designed to improve home environments and align the efforts of parents and teachers.
Researchers studying professional development addressed how coaching and mentoring influenced teachers' classroom performance. They further discussed the interactions and behaviors of professional coaches and teachers, detailing the significance of factors such as education, experience and work satisfaction.
Summit attendees also gained insights into the economic growth and cost savings that Nebraska has yielded by investing in early childhood education and programming. Additionally, those in attendance received an overview of policy implications related to these financial benefits.
The summit concluded with a panel – consisting of a researcher, two administrative practitioners and a policy expert – that offered reactions to the day's presentations and suggestions on how Nebraska's early childhood leaders should direct their future efforts.
Marjorie Kostelnik, dean of the College of Education and Human Sciences at the University of Nebraska-Lincoln, provided perspectives on the summit during her closing remarks.
"It's really exciting for us to bring together all these different communities of early childhood education and all the different sectors of people who have a really keen interest and passion for [this]," said Kostelnik, also a CYFS faculty affiliate.
"Today, some of you heard research that reinforced ideas; some of you heard research that stretched your ideas; and some of you may have heard research that began to change your ideas," Kostelnik said. "And if you did, that was a good thing – because that's what this conference is about."
To view videos of the summit's opening remarks, keynote address, panel and closing remarks – along with slideshows from research presentations – please visit cyfs.unl.edu/ecs/2012.