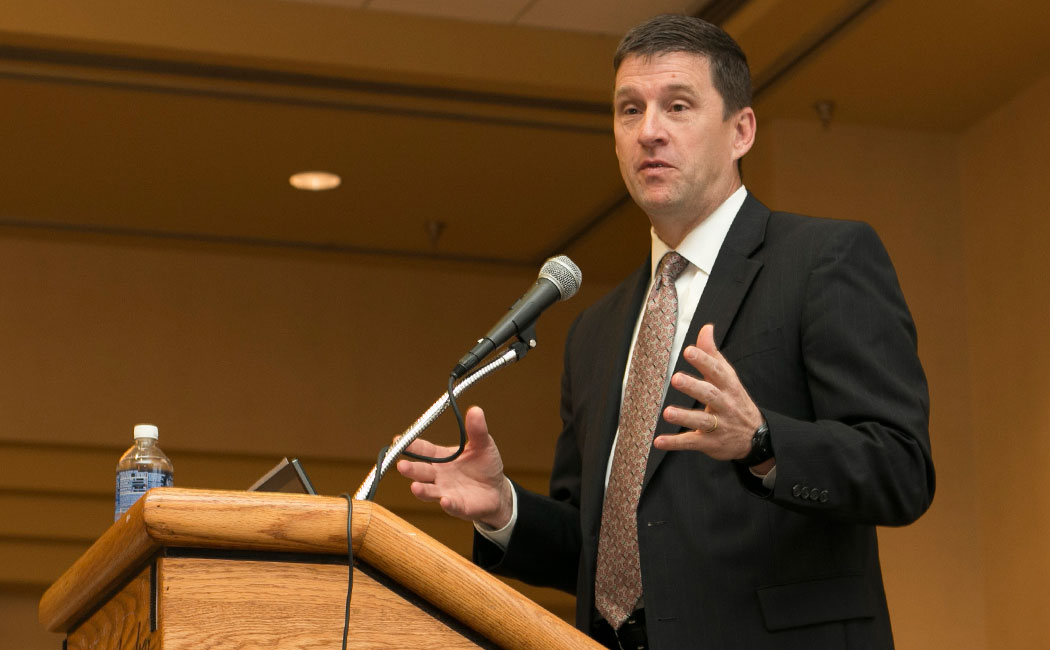 The 2016 CYFS Summit on Research in Early Childhood highlighted the power of partnerships, both local and global. Service providers, educators, administrators and researchers converged in Lincoln, Nebraska, on April 7 to learn the latest science in early childhood—and its implications for practice and policy.
The fourth biennial summit was sponsored by CYFS, the Buffett Early Childhood Institute and First Five Nebraska. It began with remarks from Hank Bounds, president of the University of Nebraska, Renee Wessels, associate executive director of the Buffett Early Childhood Institute, and CYFS director Susan Sheridan.
"Partnerships are essential to our work as we expand the scope and impact of early childhood research," said Sheridan. "They have allowed us to expand upon our collective strengths as we advance outcomes for future generations—both in Nebraska and beyond."
The summit's keynote address opened with discussion of the Early Learning Network, a national research collaboration led by UNL. Carol McDonald Connor, chancellor's professor at the University of California, Irvine, discussed her team's role in developing a classroom observation system—and the important voice of practitioners in that process. The system aims to inform and promote effective early learning opportunities for children.
Early learning opportunities were also a central theme of the summit's 15 research presentations. CYFS faculty affiliates and global partners shared research on topics including classroom self-regulation, family-school partnerships, cross-cultural studies in the U.S. and Turkey, educational data systems and the recently published Nebraska Early Childhood Workforce Survey.
This summit showed how questioning can lead to robust ideas and evidence-based knowledge… Anybody can come and join the conversation.

Marjorie Kostelnik, dean of the College of Education and Human Sciences
First Five Nebraska's Jen Goettemoeller shared policy perspectives with summit attendees. She noted the growing momentum in early childhood across the state and encouraged attendees to translate research findings for decision makers, including local school boards, state legislatures and federal delegates. With the many challenges facing early childhood, Goettemoeller said, research can make all the difference.
That sentiment was echoed by Marjorie Kostelnik, dean of UNL's College of Education and Human Sciences. Kostelnik acknowledged the summit's increased diversity in early childhood topics and research methodology, which included qualitative, mixed methods and quantitative studies.
"This summit showed how questioning can lead to robust ideas and evidence-based knowledge, and that this whole notion of knowing is an open invitation," Kostelnik said. "Anybody can come and join the conversation."
View post-summit videos, research presentations and posters
View #ECSummit16 Twitter posts