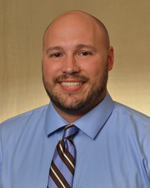 Miles or megabytes? Speed limits or bandwidth? Country roads or fiber optics?
For years, reaching out to families and schools in rural communities has meant long hours of costly travel. This reality has made distance technology an appealing alternative – and the dissertation focus of Michael Coutts, a CYFS doctoral student affiliate.
Coutts grasped the significant investments involved in supporting rural communities while contributing to several studies of Conjoint Behavioral Consultation, a family-school partnership approach co-developed by CYFS director Susan Sheridan.
With grant support from the Society for the Study of School Psychology, he's now investigating whether delivering CBC via distance technology yields the same success and acceptance as the model's traditional face-to-face structure – in a fraction of the time and for pennies on the dollar.
The CBC approach typically calls for trained consultants to visit homes and schools, where they coordinate the efforts of parents and teachers to address children's troublesome behavior across both environments. Though ongoing research has suggested promise for CBC's effectiveness in rural settings, Coutts' study represents the first look into whether technology serves as a viable delivery method, he said.
If it does, Coutts said the technology could help overcome the prohibitive time and monetary costs associated with making regular on-site visits.
"If you're a consultant, technology opens up your flexibility to reach a wider number of children," Coutts noted. "For one child, you might traditionally be traveling four hours there and four hours back from O'Neill, Nebraska. With technology, you can have that one-hour meeting from Lincoln – and then use those other seven hours to meet with seven other families and teachers. So it has the potential to really serve a greater number, and reach a wider array, of rural students."
To test this potential, Coutts is recruiting the parents and teachers of disruptive K-3 students from rural Nebraska schools. In addition to collaborating with a CBC consultant via WebEx videoconferencing software, the caregivers and educators will monitor children's uncooperative behavior on a daily basis, Coutts said. Trained observers will confirm the reliability of these ratings by making weekly visits to homes and classrooms.
Coutts and Sheridan, who's serving as project mentor, will also gauge the extent to which parents and teachers find the technology-delivered approach acceptable. This measure, Coutts said, often indicates the likelihood that communities and schools will actually adopt and implement an intervention.
"It's not enough just to focus on whether the intervention works," Coutts emphasized. "The parents and teachers may say, 'Our child's behavior is better, but I wasn't comfortable in front of a camera. It was too impersonal; I didn't feel a connection.' I want to know, if the consultant's not physically there, whether they are able to foster that. I'm hoping it's still there, but we need to find out. It's really important in the sense of whether it's going to be used."
The track record of CBC has Coutts especially excited to learn more about distance technology's capacity for expanding family-school partnerships in rural communities, he said.
"In CBC, the parents and teachers – those who are most responsible for supporting a child – are really working together," said Coutts. "CBC helps them coordinate their efforts toward supporting children in a meaningful way."