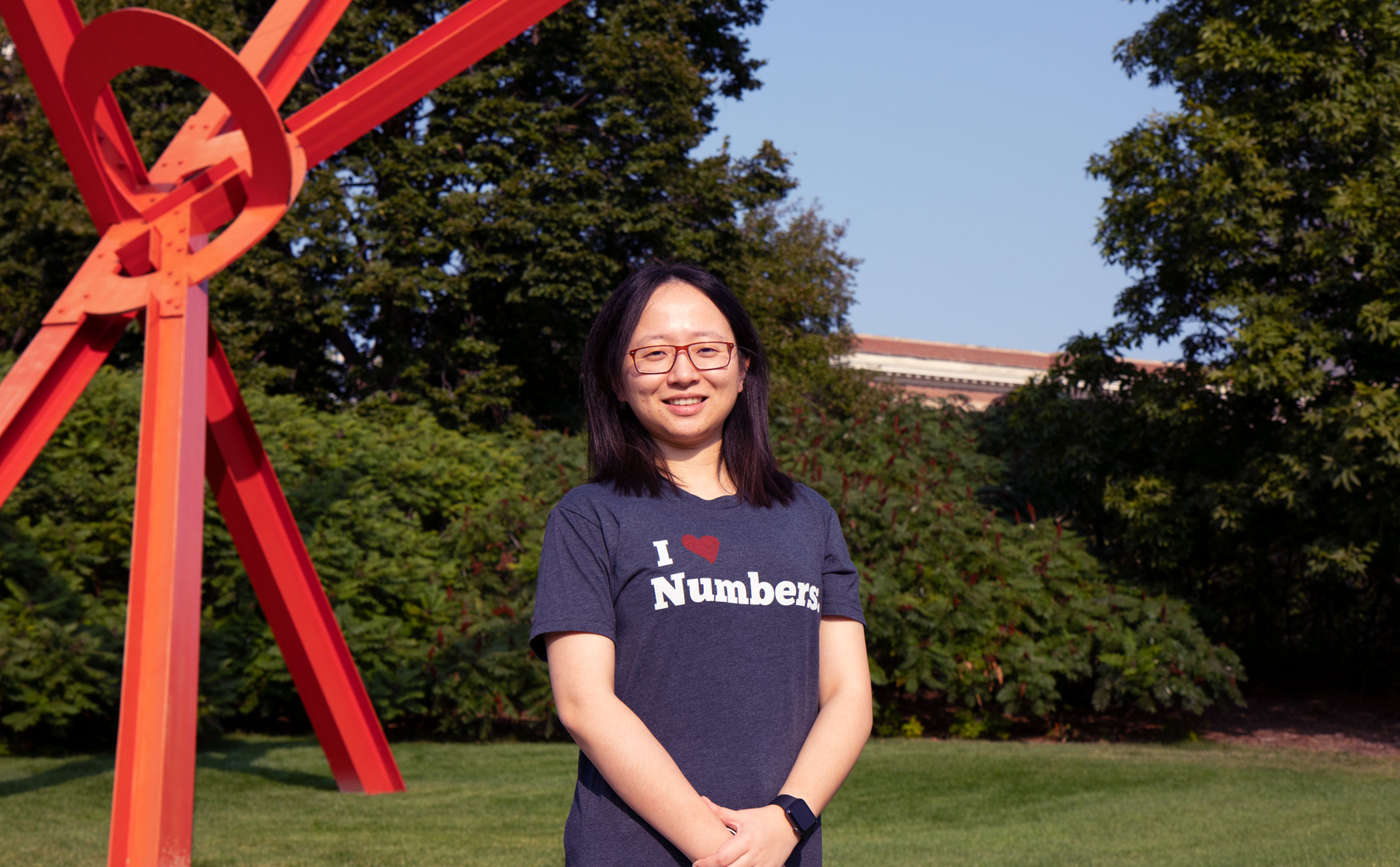 For some young children, learning the basics of 1-2-3 can be easy as A-B-C.
But because early numeracy skills often receive less attention than early literacy skills, children who lag in number comprehension may fall behind academically in kindergarten and beyond.
Keting Chen, human sciences doctoral student in the Department of Child, Youth and Family Studies, is exploring how home and childcare environments are associated with preschoolers' numeracy skills — the ability to understand and work with numbers — and how parents and teachers can ensure those skills are where they need to be once the children enter school.
Funded by a one-year grant from the Buffett Early Childhood Institute's Graduate Scholars program, Chen's dissertation project is designed to identify factors at home and in childcare environments that predict children's numeracy skills, and how the two settings jointly contribute to early learners' number comprehension.
"Research indicates young children's numeracy skills are very important in predicting later academic success," she said. "We have found significant, individual differences among students upon entry into kindergarten, and I'm interested to learn why these differences occur so early."
Chen aims to identify important aspects of early childhood numeracy environments, such as parents' and teachers' early math knowledge, and frequency of numeracy activities. Her study will include 120 preschool-aged children — and their parents and teachers — with diverse socioeconomic backgrounds.
Parents and teachers will be asked to report how often they do numeracy activities, and children's numeracy skills will be assessed. Researchers will use video observations of parent-child interactions during those activities to examine both home and childcare environments and their associations with children's numeracy development.
"Video observations help us better understand what numeracy activities look like — games, reading, cooking or other math concepts embedded in those activities," Chen said.
She also wants to gauge parents' knowledge of typical numeracy skill development — for example, whether parents think a 4-year-old has a specific skill or not. This data will help Chen determine whether parents are designing age-appropriate numeracy activities.
We have found significant, individual differences among students upon entry into kindergarten, and I'm interested to learn why these differences occur so early."

— Keting Chen, human sciences doctoral student and principal investigator
Not surprisingly, Chen said, studies show more-frequent home numeracy activities better prepare children to begin school. However, she said, that research generally focuses on one environment — either the family or childcare setting.
"I'm looking at both contexts to better understand how each context supports those skills, and whether they are supported similarly or differently," Chen said.
She noted that general math skills include many concepts — numbers, patterns, shapes, spatial ability — and an early understanding of number concepts and strong numeracy skills are important for future academic success. Children typically begin learning number words and addressing the meaning and value of the words as toddlers.
A few years ago, as a graduate student at East China Normal University in Shanghai, Chen noticed that several 3-year-old children could verbally count fairly high — as high as 30, for example. But they did not necessarily understand what those numbers meant.
"They could count by memorizing the number words, but they didn't yet understand the meaning of a request such as, 'Can you bring me four oranges?'" she said. "That concept had not yet developed at their age. That interested me; I had never thought about that."
Chen also found different skill levels among children of the same age. While some had begun to master numeracy skills, others lagged. The children who were further along, she said, were those whose parents took more time teaching them at home.
She quickly recognized the need for parents and teachers to understand what children know, and when, to appropriately tailor teaching methods. Because children have varying exposures to numbers at home, Chen believes teaching plans must include all numeracy concepts.
Chen's faculty advisors are Amy Napoli, CYAF assistant professor, and Julia Torquati, CYAF professor and graduate director, and Buffett Early Childhood Institute community chair.