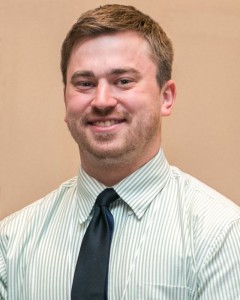 Andrew White, CYFS graduate assistant and doctoral student in school psychology, recently received a dissertation award from the Society for the Study of School Psychology. His thesis is titled "Using Self-Regulation to Predict Preschoolers' Disruptive Behavior Disorders."
White is advised by Susan Sheridan, CYFS director, and Kathy Rudasill, Susan J. Rosowski associate professor of educational psychology.
"Receiving this award is a tremendous honor, and I am grateful to SSSP for their consideration and support, as well as for the mentorship I have received from Dr. Sheridan and Dr. Rudasill," White said.
White's thesis will to examine the validity of a measure of children's temperamental self-regulation. By assessing 150 preschool students from 30 classrooms, he aims to determine whether this measure is an accurate screener for children at risk of demonstrating externalizing behavior disorders.
"Findings from this study will represent the first step in a line of research incorporating the assessment of self-regulation—a construct critical for school success—in early behavioral screening contexts," White said. "This will allow for earlier identification and intervention among at-risk youths."