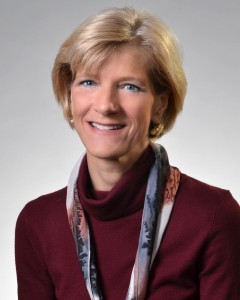 A peer-reviewed paper from the Nebraska Center for Research on Children, Youth, Families and Schools has been selected as 2013 Article of the Year by the Journal of School Psychology.
Lead author and CYFS director Susan Sheridan will accept the award from the Society for the Study of School Psychology on Aug. 8 in Washington, D.C., site of the 2014 American Psychological Association Convention.
The article outlines the newest findings from a randomized trial of Teachers and Parents as Partners, or TAPP, a family-school intervention formerly known as Conjoint Behavioral Consultation. Developed by Sheridan more than 20 years ago, the intervention aims to improve children's behavior across multiple settings by cultivating collaboration between caregivers and educators.
After tracking 207 K-3 students who exhibited challenging behaviors, the study found that participation in TAPP made children less likely to argue with parents, disobey instructions and throw tantrums at home when compared with peers who went untreated.
The researchers also reported that TAPP increased parents' communication with teachers and improved their ability to address misbehavior by setting goals, implementing strategies and gathering information to assess their children's progress.
According to the study, TAPP's positive impacts on child behavior and parental problem-solving actually increased in tandem with certain factors – including low family income and education – that typically put children at higher risk of behavior problems.
"We know intuitively that cooperation between home and school is a good thing, and that everyone benefits when parents and teachers work as partners," said Sheridan. "We also believe that focusing on students' strengths – and giving parents and teachers the tools to help students develop positive skills that replace inappropriate behaviors – positions children for later success in life. Now we have consistent and compelling data that confirms these long-held assumptions – evidence that schools can use to promote positive partnership practices in the classroom."
The article was co-authored by Gina Kunz, a CYFS research associate professor, along with Ji Hoon Ryoo, S. Andrew Garbacz and Frances Chumney, former CYFS researchers who are now assistant professors at the universities of Virginia, Oregon and West Georgia, respectively.
The Journal of School Psychology paper represents the second award-winning publication to originate from the same randomized trial of TAPP. The first peer-reviewed article, which detailed pro-social behaviors and other social skill improvements associated with TAPP, was named the best of 2012 by School Psychology Review.
"We are very excited about the findings from these related studies on the TAPP process," Sheridan said. "The awards from our research peers in the scholarly journals are very validating, but most deserving are the teachers and families who work hard every day to make a difference in kids' lives."