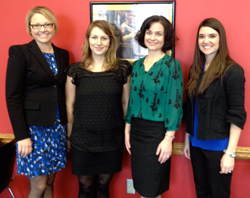 Two CYFS student affiliates will present their research – and immerse themselves in an "East meets West" culture – when they depart for a week-long visit to Hong Kong on Nov. 29.
Amanda Witte and Kadie Dooley, both doctoral candidates in the Department of Educational Psychology, were among four students recently selected to present research papers at the University of Hong Kong's Postgraduate Research Conference on Dec. 3.
Witte and Dooley earned the opportunity after receiving the Hong Kong Travel Award from the University of Nebraska–Lincoln's College of Education and Human Sciences. The award aims to promote the exchange of ideas and cultivate a mutually beneficial relationship between the two universities.
Going the Extra Mile
Witte, who also serves as a CYFS project manager, will address her study of how parents help cultivate the talents of child prodigies. With the assistance of her advisor, CYFS Faculty Affiliate Kenneth Kiewra, Witte interviewed the parents of 24 children who displayed exceptional abilities in music, chess, figure skating, baton twirling, volleyball, spelling or writing. These children proceeded to win many national and world championships, including two Olympic silver medals and a Scripps National Spelling Bee.
Witte specifically asked the parents of these children about their impact on four factors previously linked to talent development: early experience, mentoring, practice and motivation. She found that parents play important roles in each of these areas.
Nearly all of the interviewed parents introduced children to their respective talents and provided a strong foundation that provided early advantages. Every child benefitted from elite coaching, which many families – when not providing it themselves – obtained by traveling great distances and making remarkable financial sacrifices.
Witte also discovered that parents spent immense time and effort managing their children's practices and competitions, wearing hats that included accountant, fundraiser, secretary, chauffeur and videographer. Moreover, most parents modeled hard work and high achievement for their children, creating home environments that stressed excellence through maximum effort and goal-setting.
While the study confirmed the importance of the four factors already associated with talent development, it also demonstrated that parents go the extra mile – sometimes literally – to facilitate these factors.
More than Child's Play
Previous research has linked recess to the development of social skills – and found that conflicts beginning there can lead to emotional, social and academic issues. Consequently, Dooley recently investigated elementary students' perceptions of playground interactions that occur during recess.
Using playground maps and open-ended questions, Dooley's study asked 301 second- through fifth-graders to identify common locations and reasons for both positive play and conflict among students. Their responses revealed that the five playground areas most cited as havens of positive play were also perceived as the sites of most conflict. Playground equipment topped both lists, while basketball and four-square courts also rated as hotspots for harmony and discord.
Dooley found that the presence of sociable friends who were having fun contributed to goodwill at the designated sites. Arguments that often sprang from students breaking rules, however, led to verbal or physical aggression in the same areas. Overall, students cited their peers' traits – rather than traditional factors such as adult supervision, overcrowding or playground characteristics – to explain the location and nature of recess interactions.
Dooley and her advisor, CYFS Faculty Affiliate Beth Doll, believe that utilizing student-marked playground maps could inform school-specific interventions to maximize positive play and minimize conflict during recess.
City by the Sight-See
Before and after visiting the University of Hong Kong, Witte and Dooley plan to fully experience its bustling metropolis – which houses 7 million people and a multitude of ancient Chinese landmarks.
"I look forward to simply exploring Hong Kong and immersing myself in the culture," said Witte. "I believe international travel is life-changing. I anticipate this experience will help me gain a better understanding of the world and my place in it."
Dooley concurred, noting that she received some intriguing tips from CYFS Faculty Affiliate and CEHS Dean Marjorie Kostelnik.
"Dean Kostelnik suggested that we take a ferry to Lantau Island, where we can eat lunch with the Buddhist monks on top of a mountain," Dooley said. "It is opportunities like this one that I am most excited about experiencing."
Witte and Dooley also conveyed their appreciation for the opportunity to present their research to an international audience – while serving as ambassadors for CEHS and UNL.
"It is our hope that our visit is just the first step of a long partnership between the University of Hong Kong and CEHS," Witte said. "Hopefully, in the near future, students from the University of Hong Kong will be able to visit us – and the student exchange will continue for years to come."
While in Hong Kong, Witte and Dooley will chronicle their experiences via a blog coordinated by CEHS. Click here to read it.