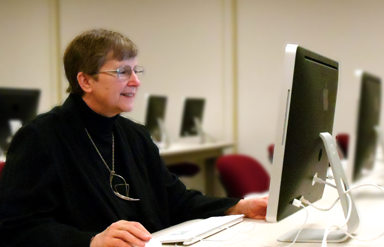 CYFS faculty affiliate Malinda Eccarius recently received a four-year, $1.2 million U.S. Department of Education grant aimed at helping 25 K-12 instructors earn teaching endorsements in deaf education.
Eccarius' "Mountain Prairie Upgrade Partnership-Itinerant" (MPUP-I) project will prepare instructors in regular and special education to become itinerant teachers – those qualified to assist students who are deaf and hard of hearing (D/HH) but take classes with their hearing peers.
MPUP-I is primed to address the severe shortage of itinerant teachers that has resulted from retirements and the record number of D/HH students transferring to traditional classrooms. Along with the teaching endorsement, participants who complete the program will have the option of earning a master's degree in special education.
The program will give participants the tools to cultivate listening and spoken language skills in a diverse range of students who are D/HH, including those with multiple disabilities. It will also help participants collaborate with the families, classroom teachers and service providers who work with these students on a regular basis.
In addition to offering courses on instruction, consultation and multiple disabilities, MPUP-I will feature itinerant student-teaching opportunities and mentors who model effective practices. Eccarius is confident these experiences will pay dividends for both participants and their future students.
"Children who are deaf or hard of hearing often are isolated in the typical classroom," Eccarius said, "because their teachers do not understand the impact of hearing loss on language development and day-to-day access to instruction and the conversation of their peers. The specialized content of MPUP-I will prepare itinerant teachers to work with [classroom] teachers and modify classroom environments to make learning easier."
MPUP-I is specifically targeting teachers from rural Plains and Midwestern communities, which are in especially dire straits due to the recruiting barriers of distance and limited resources. In order to overcome another obstacle – the full-time jobs of many potential participants – the program's entire curriculum will be offered online.
"Teachers who are most likely to want to work in rural areas are those who already live there," Eccarius noted. "Living in a rural area, however, means not being able to attend on-campus courses. Distance education brings the classes to the students. They also do their practicum locally, making them highly visible to local administrators."
CYFS Research Assistant Professor Greg Welch, a member of the Center's Statistics and Research Methodology Unit, will evaluate the results of the project. Numerous faculty from the Department of Special Education and Communication Disorders, including CYFS Affiliates Christine Marvin, Reece Petersen and Ellin Siegel, will teach MPUP-I courses.
Having been involved with two previous MPUP projects, Eccarius sees MPUP-I as a natural continuation of her efforts to improve the quality of education for students who are D/HH.
"MPUP-I is an exciting, innovative opportunity to prepare today's teachers to serve tomorrow's deaf and hard of hearing children."