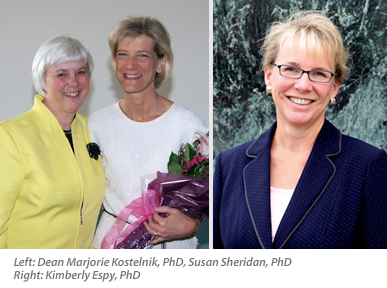 Congratulations to Susan Sheridan and Kimberly Espy, who received professorships at the University of Nebraska-Lincoln's annual All University Honors Convocation April 18, 2010.
Susan Sheridan, director of CYFS and R2Ed, was awarded the George Holmes University Professorship, supported by the University of Nebraska Foundation from the estate of George Holmes, a prominent Lincoln businessman, civic leader and philanthropist of the 1920s. Recipients are faculty who demonstrate an extraordinary level of scholarly or creative achievement and clear potential for continuing major accomplishments that enhance the reputation of the University of Nebraska. Recipients also evidence excellence in teaching and outreach and extensive involvement and service in furthering the University's missions, including leadership in national or international organizations in their field.
Kimberly Espy, associate vice chancellor for research and professor of psychology in the College of Arts and Sciences, was awarded the Charles Bessey Professorship. The first Cather and Bessey Professors were named during the academic year 2001-2002. Selection for a Charles Bessey Professorship is made on the basis of a demonstrated record of distinguished scholarship or creative activity.