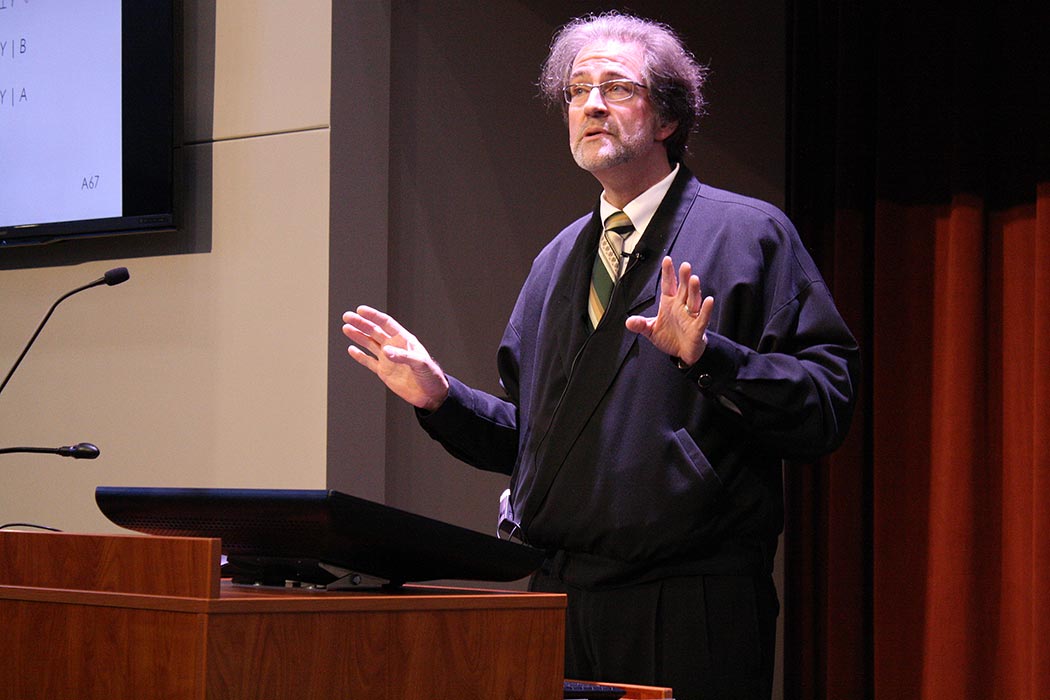 The Nebraska Academy for Methodology, Analytics and Psychometrics continues its mission to promote inter-disciplinary research with the Nebraska Methodology Workshop series. Students, faculty and community members gathered Nov. 10 at the Nebraska Innovation Campus for the first workshop by methodologist Rex Kline.
Kline, a professor of psychology at Concordia University, presented "New Developments in Structural Equation Modeling." The daylong workshop covered the possibilities of extending graph theory from computer science and new developments in mediation analysis.
Kline's discussion reflected the practicality of his fourth edition textbook, "Principles and Practice of Structural Equation Modeling." Greg Welch, assistant research professor, has taught structural equation modeling (SEM) classes using Kline's textbook. He appreciates Kline's ability to distill complex information – something he knows isn't easy.
"I taught students from other disciplines and know firsthand how challenging it is to come down to a practical level for non-methodology students," Welch said. "I think Kline sets the standard with his text. He does a nice job balancing the theoretical with the practical, which carries over to his workshop presentations."
Brad Smith, graduate student of educational psychology, attended the November workshop after taking an SEM class that used Kline's fourth edition text. Kline is one of the best, he said, in terms of content and presentation.
Practical insights also aided database analysts and developers from the Nebraska Department of Education. Kiley Taylor, senior database analyst, learned new ideas to potentially apply to her team's data sets.
"We're interested in the field of big data," Taylor said. "We want to know what models are best to determine quality and answer questions. The workshop has planted a seed of curiosity for us to grow our knowledge."
Gina Fe, assistant professor of hospitality, restaurant and tourism management, attended the workshop to learn more about SEM's application for her event planning research. She studies the social, environmental and economic impacts of Nebraska's cultural festivals. Her research has included visits to German, Swedish and Czech celebrations.
"I've done exploratory research in the past and I'd like to confirm it using SEM," she said. "We could potentially use SEM to demonstrate, for example, how to put together a successful cultural festival."
The methodology workshop concluded with Kline's keynote address, "Hello, Statistics Reform," in which he scrutinized the limitations of interpreting statistical significance tests. Kline encouraged researchers to consider alternative methods while addressing a study's practical, theoretical or clinical significance. He suggested using size estimation and confidence interval estimation, rather than rely solely on statistical significance tests.
"Our mark of success should be testing good ideas, not holding up good models," Kline said.
Good ideas continue to set the foundation for diverse research goals, as the MAP Academy supports practical methodology across campus and throughout the community. MAP will host a monthly research methodology series beginning Dec. 12 and a second methodology workshop in the spring.
The workshop was made possible with the support of the College of Education and Human Sciences; Departments of Statistics, Survey and Research Methodology, Educational Psychology and Sociology; and the Nebraska Center for Research on Children, Youth, Families and Schools.