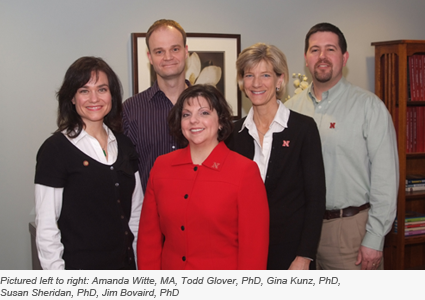 Congratulations to Drs. Susan M. Sheridan, Todd Glover, Gina Kunz and Jim Bovaird on their recent $3 million, four-year grant, "CBC in Rural Communities," awarded in March 2010.
Amanda Witte is project manager. The grant, funded by the U.S. Department of Education's Institute of Education Sciences (IES), will be housed jointly in the Nebraska Center for Research on Children, Youth, Families and Schools (CYFS) and the National Center for Research on Rural Education (R2Ed).
Conjoint Behavioral Consultation (CBC) is an educational approach that creates opportunities for parents and teachers to work collaboratively to address concerns and achieve goals they share for students. In CBC, educational consultants help establish positive relationships between families and schools.
Students are supported through the development of individualized plans used by parents and teachers in their home and classroom settings. CBC has been shown to help families and schools in urban/suburban settings unite in their efforts to assist struggling elementary students.
With this newly funded grant, the efficacy of CBC for students in elementary schools in rural communities will be studied with approximately 270 students who exhibit disruptive classroom behaviors in kindergarten through 3rd grade.
This large-scale project aims to improve educational outcomes for students in schools in rural communities whose behaviors place them at risk of academic underachievement and more serious behavior problems. Enhancing the availability of and access to supports for both teachers and parents in rural schools through CBC provides one means of augmenting the quality of education in rural communities.