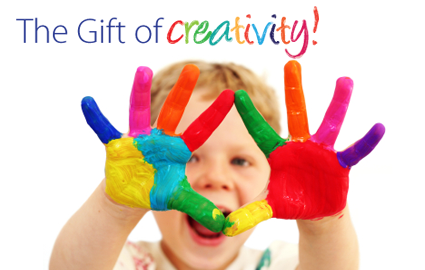 The Nebraska Center for Research on Children, Youth, Families and Schools extended the gift of creativity to impoverished children, families, and schools in and around Nebraska during the 2009 holiday season. The importance of creative experiences in children's lives is well understood. Unfortunately, many children living in low-income conditions have no materials in their homes and few in their classrooms. As a result, direct access to colors, paints, and other such materials is extremely limited for these impoverished and disadvantaged children.
The result is an ever-widening gap between those who are privileged with the basic tools to survive and thrive in life, and those who are not as privileged. Thus, during the month of December, we collected virtually hundreds of new children's art supplies from our faculty and student affiliates, colleagues, and other friends and partners across all aspects of the UNL campus and community constituents.
On December 16, the art supplies were delivered to St. Patricks Grade School, Riley Elementary School, Zeman Elementary English Language Learners Program, and the Head Start classrooms in Grand Island that are part of Head Start Child and Family Development, Inc. Each school determined how the art supplies would be distributed to families, and some select items were retained in classrooms to enhance the arts education provided to students. School principals, art teachers, and other staff were delighted and amazed at the amount of arts supplies given to their schools.
CYFS faculty and staff were genuinely moved by the selfless generosity shown by the UNL campus and our off-campus friends and colleagues, supporting our effort to make the holidays more colorful and enjoyable for children and families in Lincoln and Grand Island. This joyous event in 2009 marks the third year CYFS has coordinated donations to area schools. We are extremely appreciative to all those who helped us make this holiday season more special to families in need. We are privileged to have you as friends.