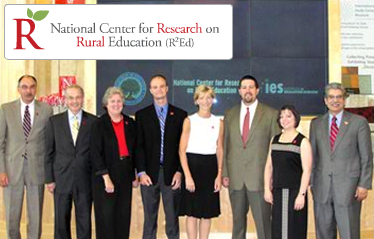 The Nebraska Center for Research on Children, Youth, Families and Schools announces The National Center for Research on Rural Education (R2Ed).
This nearly $10,000,000, 5-year grant from the U.S. Department of Education Institute of Education Sciences (IES), is under the direction of Drs. Susan M. Sheridan (PI and center director), Todd Glover, Gwen Nugent, Gina Kunz, and Jim Bovaird.
Beginning July 1, 2009, the R2Ed Center will conduct cutting-edge rural education research. Ultimately, it aims to improve rural student learning in reading, science and math. It will do so by identifying how best to provide ongoing professional development to assist teachers in delivery of effective instructional strategies that produce the greatest outcomes for rural students.
Research on rural education is limited, and the center will provide the infrastructure, leadership and expertise to focus on unique rural needs. Nebraska school students will be the ultimate beneficiaries of the work to be conducted through this center. The center will reach students by enhancing the experiences of teachers (i.e., equipping them with new tools and research-based instructional techniques), who will transfer that new knowledge and skill set into their classrooms, thereby augmenting the classroom experiences of students. The results will be far-reaching.
Nationally, nearly 10 million youth attend school in rural areas. In Nebraska, almost 30 percent of students attend rural schools, and 87 percent of the state's school districts are considered rural. Teacher involvement in research occurring through this rural education center will benefit at least 5,000 Nebraska students. Research-based answers to questions regarding teacher professional development and instructional innovations will guide improvements in professional development programs for rural teachers across Nebraska and the nation.
Visit the National Center for Research on Rural Education (R2Ed) website!