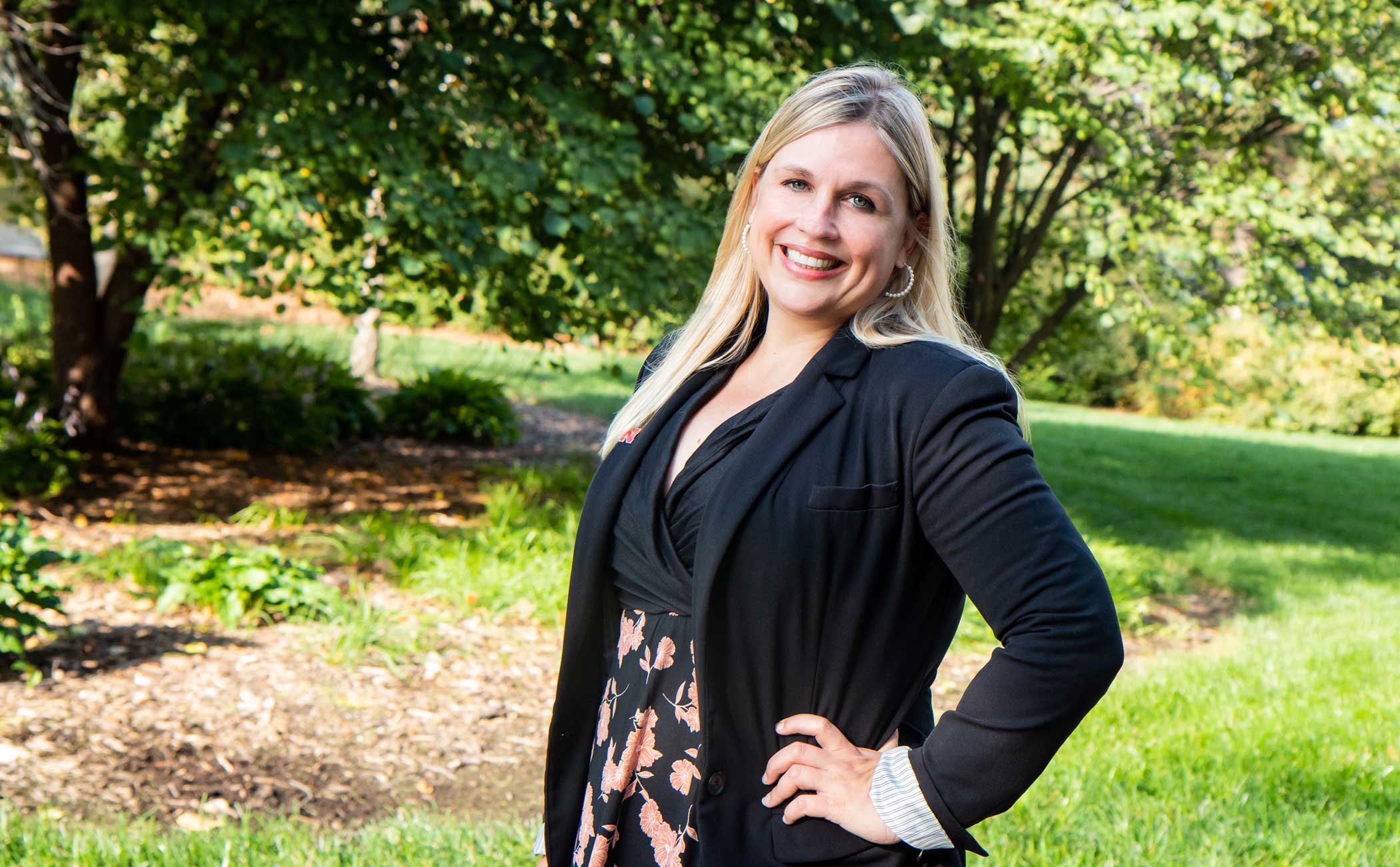 With the pandemic-fueled anxiety of the past year and a half, workplace stress has become more common among much of the workforce.
Even under less-tumultuous conditions, job stress is a big contributor employee turnover. In early childhood settings, turnover can negatively impact educator relationships with children and families, and compromise children's learning and development.
In Early Head Start and Head Start (EHS/HS) programs — which primarily serve minority and marginalized children and families — damage caused by workforce turnover can be even more acute.
Holly Hatton-Bowers, assistant professor of child, youth and family studies, is leading a project to support well-being among EHS/HS educators, with the goal of strengthening employee retention and continuity of care.
She and her interdisciplinary research team will collaborate with early childhood educators to implement a mindfulness-based intervention — Cultivating Healthy Intentional Mindful Educators (CHIME) — for EHS/HS programs.
CHIME is a Nebraska Extension program co-created by Hatton-Bowers, Early Childhood Extension educators and early childhood teachers. The eight-week professional development program provides education and guidance for practicing mindfulness and compassion-based strategies, and helps caregivers engage in reflective practice and use mindfulness with young children.
Research shows engaging in mindfulness and reflective practice benefits health and well-being of both providers and young children, including reduced stress, improved emotion regulation, better sleep quality, increased focus and attention, and enhanced relationships.
"We have promising evidence that teachers who use mindfulness, self-compassion and social-emotional learning strategies tend to be more emotionally regulated," said Hatton-Bowers, the project's principal investigator and a CYFS research affiliate. "Teachers who are more emotionally regulated are more responsive in their teaching, which will support children's engagement and eventual learning success."
Teachers who are more emotionally regulated are more responsive in their teaching, which will support children's engagement and eventual learning success."

— Holly Hatton-Bowers, principal investigator
Researchers are working with EHS/HS programs in Nebraska, Minnesota and Washington to adapt and refine CHIME into a sustainable, culturally responsive program that meets the distinct needs of EHS/HS programs. To tailor the program, researchers will rely on feedback from focus groups and interviews of EHS/HS family members, teachers and education staff directors, as well as infant mental health specialists and professional development coordinators.
"This project will be collaborative, and will use a co-creation process we haven't used before — co-creating with the EHS/HS education staff and families," Hatton-Bowers said. "Involving EHS/HS programs this way will be an integral part of the process."
After refinements, 120 EHS/HS education staff and 360 children/families will generate data from classroom observations of teacher-children interactions, and parent and teacher reports on child self-regulation, to evaluate the CHIME-Head Start program. Additionally, physiological measurements will be gathered from teachers using an Actiheart — a compact, chest-worn monitoring device that records heart-rate variability to determine how teachers are coping with stress and their emotions.
Researchers will then determine whether trained EHS/HS staff can effectively implement CHIME-HS to promote educators' emotional well-being, workplace engagement and positive teaching practices while decreasing staff physiological and emotional reactivity.
Researchers are also working with families to create strategies to involve children in CHIME at home.
"Children learning these strategies at home, as well as from their teachers, will have more exposure to and experience with compassion and mindfulness practices," Hatton-Bowers said.
Hatton-Bowers and her team are part of a nationwide consortium of six grant recipients chosen to explore the issue of teacher well-being in EHS/HS programs. The four-year, approximately $2 million project is funded by a grant from the U.S. Department of Health and Human Services' Administration for Children and Families.
Along with Hatton-Bowers, the Nebraska research team includes co-principal investigators Carrie Clark, assistant professor of developmental and learning sciences, and Lisa Knoche, director of the Nebraska Academy for Early Childhood Research and CYFS co-director; and co-investigators Jaci Foged, Nebraska Extension educator; Kathleen Gallagher, director of research and evaluation, Buffett Early Childhood Institute; Gilbert Para, professor of child, youth and family studies; Sue Sheridan, CYFS director and associate dean for research and creative activity; and Lorey Wheeler, CYFS research associate professor.
"The consortium is a beautiful way to identify effective ways to promote early care education staff well-being using different interventions and research methodology," Hatton-Bowers said. "Now we have the opportunity to draw upon the tenets of community-engaged research to enhance and expand this program within EHS/HS child care settings."
Learn more about this project in the CYFS Research Network. This project aligns with the UNL Grand Challenges of early childhood education and development, and health equity.