By Haley Apel, CEHS Director of Strategic Communications
Because today's fast-paced world demands constant innovation in the areas of science, technology, engineering and mathematics, STEM-related occupations continue to grow at a faster rate than those in non-STEM related fields.
Ensuring today's elementary students are prepared for tomorrow's STEM careers demands a highly effective classroom teacher.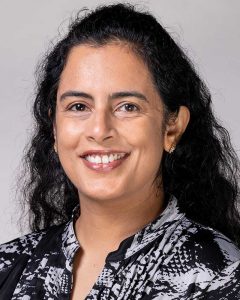 Deepika Menon, assistant professor in the Department of Teaching, Learning and Teacher Education, is leading a multidisciplinary team of researchers to explore links between teachers' self-efficacy in teaching STEM, teacher preparation and development opportunities, teaching effectiveness and teacher retention in high-needs school districts.
The five-year project — Research on Integrated STEM Efficacy (RISE) — is funded by the National Science Foundation's Robert Noyce Scholarship Program. Along with the Nebraska team, researchers from Southern Methodist University, Indiana University and Towson University are also participating.
The project secured funding for five years through a $481,065 grant from the National Science Foundation's Robert Noyce Scholarship Program. The total grant amount funded between the four institutions is approximately $1.3 million.
"Previous research has shown that elementary teachers are often uncomfortable teaching science, mathematics, and engineering as independent subjects, and STEM integration poses new challenges," Menon said. "Through this project, we hope to develop and sustain integrated STEM teaching self-efficacy long term."
Insufficient elementary teacher preparation in integrated STEM, as well as attrition from the teaching profession is a challenge across the United States. High-need schools in particular face challenges in recruiting and retaining highly qualified teachers.
The project will involve surveys, interviews and classroom observations, and will impact over 700 elementary teachers in their first five years of teaching who experienced ten different teacher preparation programs.
Findings will be used to identify programmatic features that support early career elementary teachers' self-efficacy in teaching integrated STEM within high-need school districts.
Feedback from the participating teachers will help develop summer professional development opportunities designed to address specific needs based on observations of their STEM teaching practices. The workshops will be offered at regional and national practitioner conferences, expanding the reach of the project to support elementary teachers nationwide.
Learn more about this project in the CYFS Research Network. This project aligns with UNL Grand Challenges in early childhood education and development and science and technology literacy for society.