Establishing and sustaining productive research partnerships is critical for early childhood researchers, but these can sometimes be difficult to create.
A panel of University of Nebraska early childhood researchers and community partners from across Nebraska led a virtual discussion Nov. 17 about the importance of creating and maintaining research partnerships in the first NAECR Knowledge event of the fall.
They shared their experiences in forming and maintaining successful research partnerships — and outlined lessons learned through their interactions. Panelists included:
Tessie Beaver, North Bend Central Elementary School principal;
Danae Dinkel, associate professor, Health Promotion, Social & Behavior Health, University of Nebraska at Omaha;
Natalie Hanna, early childhood educator, Natalie's Daycare; and
Amanda Witte, CYFS research assistant professor.
Researchers and community partners discussed how their research-practice partnerships developed, and outlined some of the highlights and challenges of their work. They also shared how they have benefitted from participating in research, and talked about important considerations for researchers when conducting studies with community partners.
The event also featured a question-and-answer session where panelists shared advice on creating strong relationships among researchers and community partners.
NAECR Networking and NAECR Knowledge are an ongoing series of networking and training events designed to enhance early childhood research across the NU system.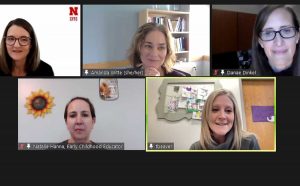 The Fall 2022 NAECR Networking event is Dec. 5, and will continue to highlight the importance of research collaborations and partnerships for early childhood researchers.
Jocelyn Bosley, UNL research impact coordinator, will share strategies for coordinating research impacts, including the facilitation of research partnerships.
The session will include breakout rooms and small group conversations for NAECR researchers to share strategies for initiating and sustaining research partnerships and collaborations with community partners and other researchers.
The event is free but requires registration.
For more information on NAECR activities, contact Sommer Fousek, project coordinator, at sfousek2@unl.edu.