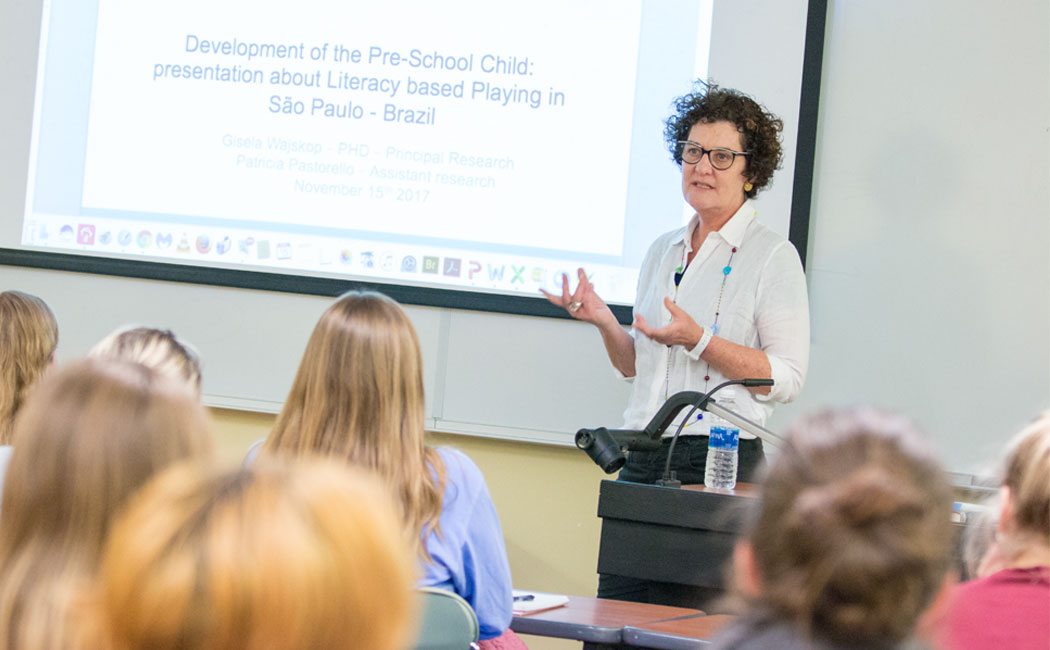 CYFS faculty affiliate Soo-Young Hong, associate professor of child, youth and family studies, recently hosted Brazilian researchers Gisela Wajskop and Patricia Pastorello for a weeklong visit in Lincoln, Nebraska, as part of the University of Nebraska–Lincoln/Brazil Early Childhood Initiative.
The international research team is exploring how a professional development program can help preschool teachers integrate science into their daily classroom activities. Four of the study's preschool classrooms are in Lincoln and four are in São Paulo, Brazil.
While in Lincoln, Wajskop and Pastorello worked with Hong on their joint project. The opportunity to work in person helped the team answer questions, deepen their thinking about the project's research design and stay on the same page, Wajskop said.
The team's research represents a new approach for preschool science education in both countries.
"I've been working in preschool and early childhood areas my whole life, but in Brazil, we don't put a focus on inquiry-based learning and science," said Wajskop, a researcher at the Pontifical Catholic University of São Paulo and director of Escola do Bairro. "This work I'm doing with Soo-Young can open doors to contribute a deep understanding about how we teach educators in Brazil."
Wajskop and Pastorello also had opportunities to share about Brazilian early childhood education to students in the College of Education and Human Sciences, including undergraduate class CYAF 270.
Throughout the week, the research team toured early childhood centers and children's organizations in Lincoln and surrounding areas, including:
Prairie Hills Learning Center
Educare of Lincoln
Dimensions Early Education Program
Lincoln Children's Museum
Head Start
Ruth Staples Child Development Lab (East Campus)
The team's project is supported by the Maria Cecilia Souto Vidigal Foundation and the University of Nebraska–Lincoln. It is housed in CYFS.
Photo gallery: