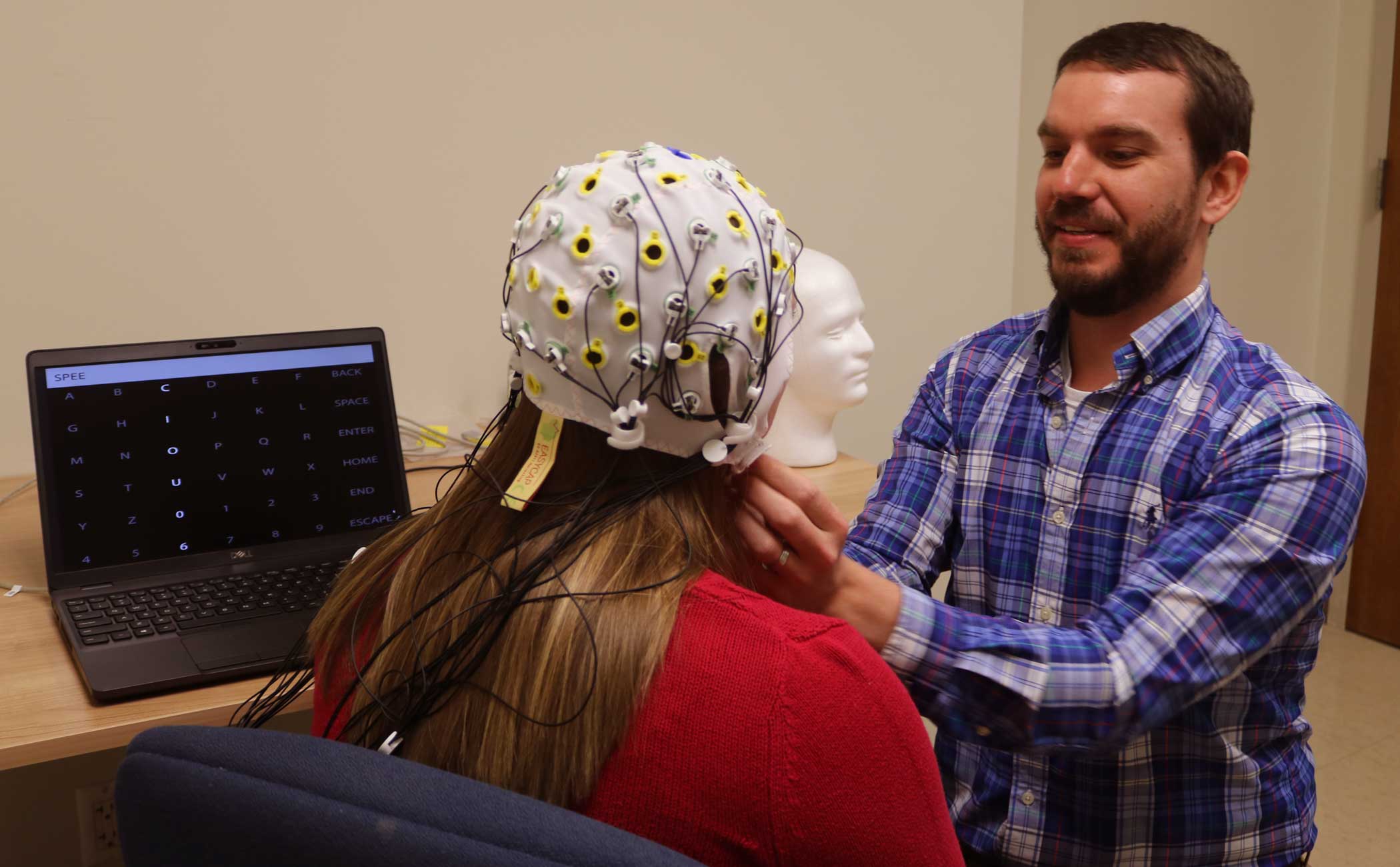 As computer technology continues to evolve and become more routine in daily life, researchers and engineers alike are working to find new ways to link computer technology with the human brain.
Using a direct communication pathway between a wired brain and an external device to produce commands is no longer the stuff of science fiction. Brain-computer interface, or BCI, is now evolving reality — and one that promises enhanced quality of life for people with severe physical impairments (SPIs).
Kevin Pitt, assistant professor of special education and communication disorders, is leading a pilot project that uses this cutting-edge technology to facilitate communication for people with SPIs — technology which can greatly increase personal autonomy and mobility.
With funding from an Office of Research and Economic Development Layman Seed Award, Pitt and his team are honing clinically based evaluation tools and assessment frameworks for brain-computer interface access to augmentative and alternative communication devices (BCI-AAC).
"BCI translates brain activity into computer control, so the user doesn't need any physical motor movement to use a communication device," said Pitt, a CYFS research affiliate.
His goal is to make this technology more accessible to patients by exploring ways to seamlessly integrate its use in clinical settings, such as hospitals and rehabilitation centers.
For the pilot study, Pitt will use two to four age-matched individuals with SPIs, including spinal cord injuries, Parkinson's disease, amyotrophic lateral sclerosis — most commonly known as ALS — or other severe physical impairments.
Participants will be tested at the Augmentative and Alternative Communication (AAC) Translation Lab in the Barkley Memorial Center on the University of Nebraska–Lincoln's East Campus to develop user profiles based on participants' cognitive abilities — attention, memory, number skills, executive function, motor abilities, motivation and other factors.
Pitt will explore how individuals learn to use this technology. He aims to identify factors that contribute to users' success so they can be well-matched to AAC devices.
"There are different types of BCI-AAC devices," Pitt said. "For instance, some use visual displays, some auditory or tactile. So pairing users with the right BCI is crucial. Even if you have high accuracy, if it's hard, fatiguing to use or does not utilize your strengths, you're not going to want to use it."
For his study, Pitt's team is using the P300 speller device — a communication tool that records brain activity through electrodes in a non-invasive electroencephalogram cap. The device reads electrical signals generated by the brain when the user identifies something as novel or different, enabling the user to input texts or commands to a computer using thought-generated brain reactions.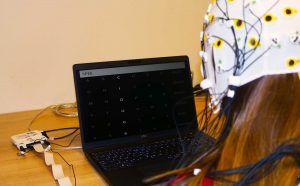 The user views letters and symbols on a display, which highlights all the letters of the alphabet for a short time. When the letter the user wants is highlighted, the brain emits an electrical spike — known as the P300 — which is detected by the BCI. From there, words and sentences can be communicated.
The study will track users' progress and learning with the P300 speller device, along with their satisfaction with the device. Researchers will use up to 10 sessions to determine a participant's learning trajectory.
"A person may not do well with a particular device after just two sessions," Pitt said. "But they might adapt and learn the BCI device with more sessions. There is a learning curve."
Pitt is collaborating with Lincoln's Madonna Rehabilitation Hospitals who work with computer and communication access for people with severe physical impairments. He also is working with the University of Nebraska Medical Center to aid recruitment.
Among Pitt's project collaborators are Dr. Susan Fager at Madonna Rehabilitation Hospital; Dr. Ezequiel Piccione, UNMC Department of Neurological Sciences; and graduate research assistants Amirsalar Mansouri, Austin Spoor and Kylie Weckwerth.
The ultimate goal, Pitt said, is to extend the reach of BCI technology.
"The next step is to expand to younger children, whose brains operate differently, so we can start to more broadly get BCI to other populations," he said.
Learn more about this project in the CYFS Research Network. This project aligns with the UNL Grand Challenge of health equity.