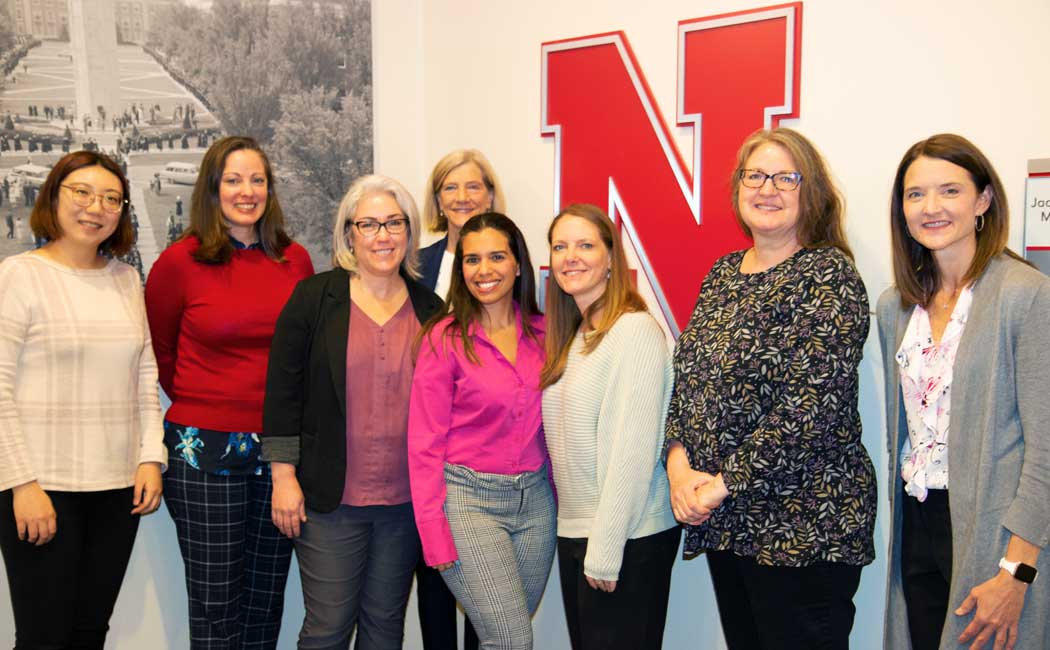 Research teams from four universities gathered May 4 and 5 at the Nebraska Union to discuss expanding knowledge and support of Early Head Start and other early care and education programs.
During the two-day Early Head Start University Research Partnership Data Camp, researchers collaborated in-person and virtually on a variety of topics, including parent-teacher relationships, infant/toddler well-being in Early Head Start center-based care and provider professional development.
Researchers from the University of Miami, University of Texas Health Science Center at Houston and Wayne State University (Michigan) joined Nebraska researchers to discuss interventions that focus on helping parents and center-based teachers achieve child development goals.
"The EHS Parent-Teacher Intervention Consortium has provided a collaborative opportunity to explore best practices for infant/toddler programs," said Lisa Knoche, CYFS co-director. "We are thrilled to host our partner teams here at UNL for an on-site data camp where we can dive into our shared data and identify cross-site research questions. As a consortium, we learn much more together than we can learn as an independent site."
Nebraska researchers organized and facilitated the event as the lead organization for the data center, and also engaged as a research team for Getting Ready, a project focused on strengthening relationships in children's lives, including relationships among parents, their young children and the early childhood professionals connected to the family.
Along with Knoche, Nebraska researchers at the event included Sue Sheridan, CYFS director; Lorey Wheeler, CYFS research associate professor; HyeonJin Yoon, CYFS research assistant professor; Jayden Nord, MAP Academy graduate research assistant; and Sandra Scruggs, Getting Ready early childhood research technician.
Funded by the U.S. Department of Health and Human Services-Administration for Children and Families, the partnership is designed to contribute to the knowledge base regarding how Early Head Start and other early care and education programs can promote and improve early child development by supporting both parenting and caregiving.
Results of these studies will help guide center-based programs to promote and improve early child development. Merging and analyzing data across sites will enable researchers to contribute more effectively to the infant/toddler early childhood research base.
Learn more about CYFS' efforts in the Early Head Start University Partnership on the CYFS Research Network. This study aligns the UNL Grand Challenge of early childhood education and development.
Photo gallery