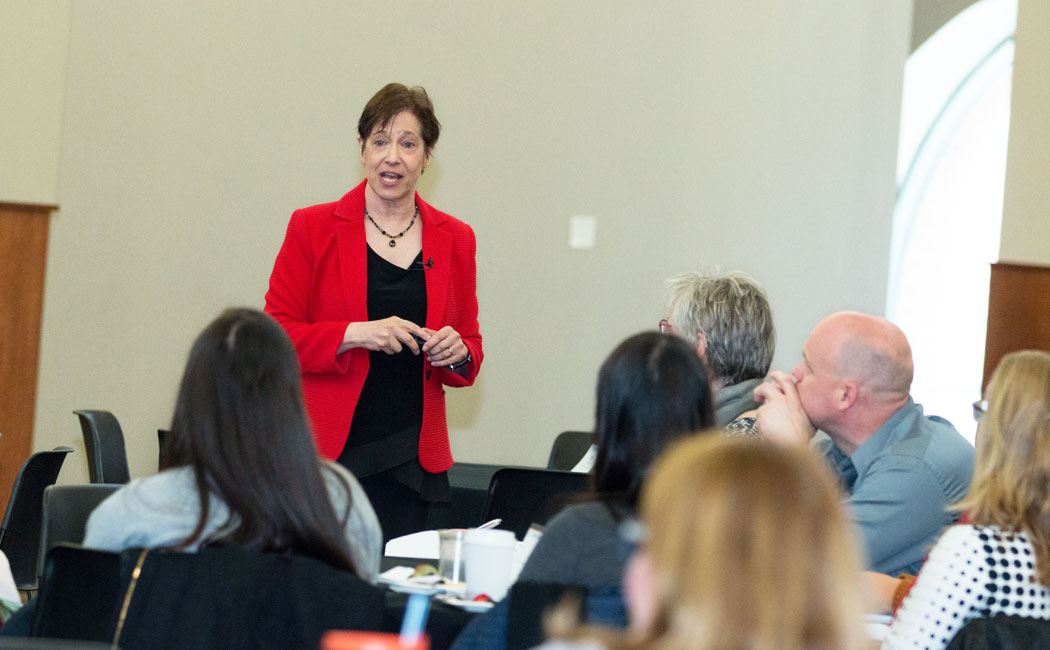 Creating connections among early childhood research, practice and policy — and how each element can enhance the lives of young children and their families — provided the central theme of the 2018 CYFS Summit on Research in Early Childhood.
More than 200 attendees, including researchers from across the University of Nebraska system, practitioners, administrators, community partners and policymakers, gathered April 25 at Nebraska Innovation Campus for the daylong, fifth biennial summit, which highlighted the latest findings in early childhood research from NU-affiliated faculty, and those findings' implications for practice and policy.
"We believe the early childhood research being conducted across University of Nebraska campuses has immediate implications for practice, and we have already seen its positive impact on children and families," said Susan Sheridan, CYFS director. "Different perspectives, participation and ongoing support of early childhood research are helping to build a strong foundation for future generations."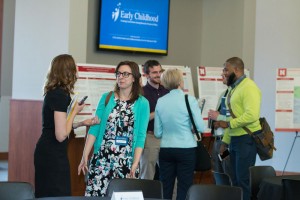 University of Nebraska President Hank Bounds welcomed attendees to the summit, praising the ongoing efforts of early childhood research.
"If we don't expose children to other opportunities, we could become a state that spirals more and more toward lack of opportunity," Bounds said. "All the work you do will ensure we avoid that."
Kathy Hirsh-Pasek, the Stanley and Debra Lefkowitz Faculty Fellow in the Department of Psychology at Temple University and a senior fellow at the Brookings Institution, delivered the summit's keynote address. She outlined how social scientists balance the need to perform basic science with their desire to be relevant to the questions and issues of their time.
Calling language "the foundation for all other learning," Hirsh-Pasek highlighted studies that show correlations between good language skills and successful academic and social outcomes. She also discussed the crucial need for parents and their children to have engaging, back-and-forth conversations with minimal distractions.
"It's a conversational duet, because you have to sing it together," she said. "Whether during play or reading storybooks, if the adult and the child can create contingent conversation, it can make a huge difference for young kids."
Hirsh-Pasek emphasized the need to share accurate information with the public, through traditional means — working with journalists is key, she said — and by using social media.
"There is so much misinformation about our work," she said. "If we begin to talk about what we know and share it as much as possible, people will better understand what we do."
Hirsh-Pasek lauded the work of Nebraska researchers.
"Nebraska's work in early childhood research is drawing attention from around the country," she said. "You have top-flight scientists here and a ready community. Both are needed."
The importance of local and global research partnerships was emphasized throughout the day's various breakout sessions, discussions and poster presentations. Discussions and networking continued during lunch, which included some comments from Nebraska State Sen. Patty Pansing Brooks.
Research topics spanned children's school readiness, parent engagement, early childhood special education, health and nutrition, STEM and social-emotional development, and teacher training and professional development.
From a policy perspective, it's invaluable to have Nebraska researchers spend time together sharing their great work in our great state. I think we would benefit as a community by figuring out how to better translate that research into policy decisions."

Sarah Ann Kotchian, VP of public policy, Holland Children's Movement
Marc Goodrich, assistant professor of special education and communication disorders, said he enjoyed the interaction with other attendees.
"It's all about making connections and coming up with new ideas for different research possibilities," he said. "It's important to take advantage of knowledge in different disciplines, such as psychology and education, to come together to create more informed research and practice."
Holly Hatton-Bowers, assistant professor and extension specialist, University of Nebraska-Lincoln, agreed.
"The summit helps me connect with, share and learn from policymakers, community members and practitioners in terms of what they're doing and how it makes my work more relatable and usable," she said.
Sarah Ann Kotchian, vice president of public policy for the Holland Children's Movement, said Nebraska's early childhood practice, research and policy communities all benefit from discussion and collaboration.
"From a policy perspective, it's invaluable to have Nebraska researchers spend time together sharing their great work in our great state," she said. "I think we would benefit as a community by figuring out how to better translate that research into policy decisions."
Michelle Suarez, early childhood developer at Prosper Lincoln, shared some closing thoughts, noting how early childhood research drives future success.
"Just about anything we want to accomplish depends on good development in early childhood," she said. "When we become informed and apply that information, we become more impactful."
The event concluded with 40 graduate students presenting their early childhood work in a poster session.
The summit was sponsored by CYFS; the Nebraska Academy for Early Childhood Research; the Buffett Early Childhood Institute; First Five Nebraska; and the College of Education and Human Sciences.
View post-summit videos, research presentations and posters
View #ECSummit18 Twitter posts
Photo gallery: